Glass Folding Doors 
The Cover Glass USA's folding glass walls system consists of a specially designed glass panel suspended between our upper and lower steering profiles. Each folding glass panel is fixed into our glazing channels with stainless steel fasteners at the top and the bottom of each piece of glass, ensuring each panel is securely fit. Once attached to our wheels, each panel is able to freely slide along the inside of our tracks.
Each sliding glass panel is 1/2″ thick and consists of two industrial laminated pieces of tempered glass. We use the latest generation of
Pilkington's Energy Advantage Series
. Number and width of the glass panels are chosen in relation to the length of the system. Each sliding glass panel is generally between 24″ to 33″ in width and up to 110″ (9'2″) in height. Other sizes of width are available, but please note 110″ is our height restriction.
The Cover Glass USA track is 1 ¾" W x 2 ¼" H and consist of specially designed AL profiles made in compliance with DIN1748. Depending on your exposure, profiles are either powder coated or Kynar finished, allowing our track to endure environmental influences. All metal parts are made from non-corrodible stainless steel.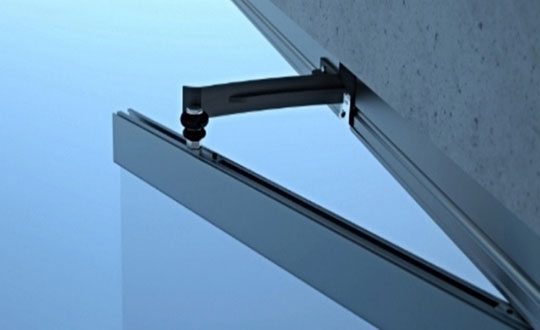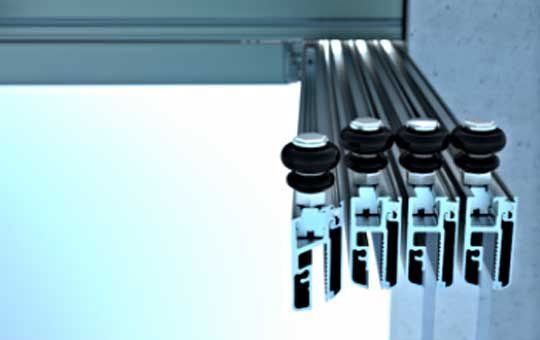 Cover Glass USA's folding glass walls have been laboratory tested for structural performance, water penetration, and air leakage by the NCTL, who has approved and certified that our frameless glass door systems meet or exceed the minimum requirements for:
ASTM E330: Uniform Load Structural Test
ASTM 331/E547: Water Penetration Resistance
ASTM 283: Air Infiltration/Exfiltration
Additionally, our folding glass walls are in compliance with EN 12150-1, and we surpassed the requirements of the EN 12211 for Windload Resistance.
The tensile strength of our glazing profiles from our steering profiles exceeds 1890 lbs.
The tensile strength of our gearing axle exceeds 3,560 lbs/axle.
Our POM injected wheels, under random testing, were undamaged at loads exceeding 1,320 lbs.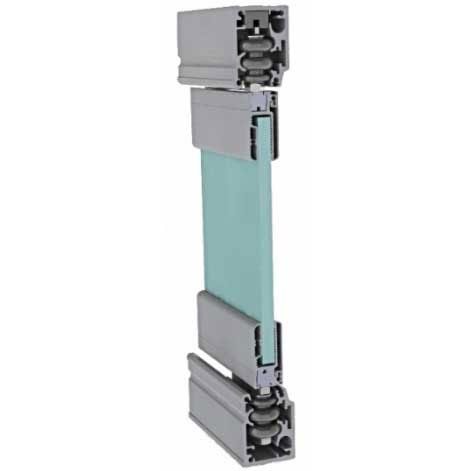 A side profile of our glass folding doors. If you would like CAD drawings, please contact us via phone or through our Contact Us form.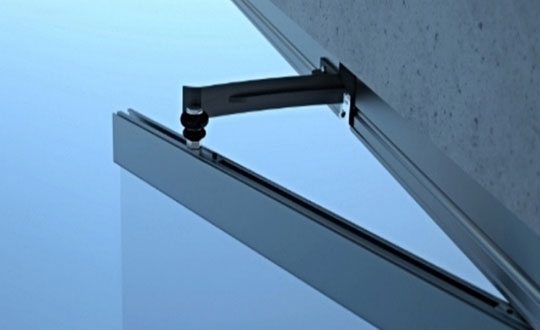 Wheel Guide
Use: Guides each panel in and out of the top track smoothly.
Material: Polymer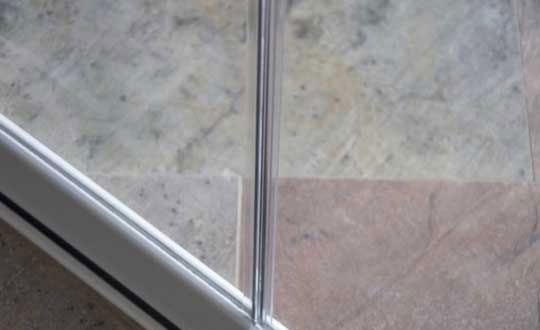 Weather Seals
Use: Interlocking channels that seal tightly between panels to keep water and wind out.
Material: UV Protected Translucent Polycarbonate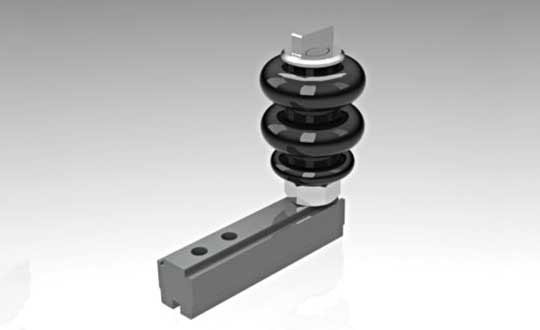 Wheel
Use: Allows panel(s) to glide along and swing outward from our track.
Material: Polymer and Stainless Steel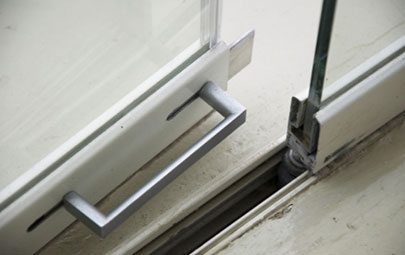 Locking Mechanism
Use: Locks from the inside by deadbolt to our glazing channel. Prohibits entry from the outside.
Material: Stainless Steel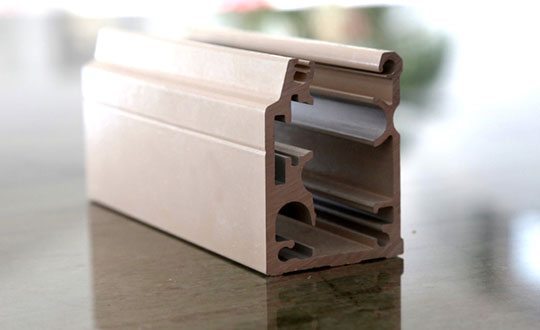 Upper and Lower Profile
Use: Designed specifically to hold our wheels and guide our system.
Material: Aluminum